It seems like summer was just yesterday. Hopefully you were able to unplug and spend quality time with family and friends without having to check your email. We often do our best planning and envisioning when we are enjoying our leisure time, especially when there isn't the added noise and stress of work and other competing priorities. Wouldn't it be nice to have the capacity to do more envisioning and more planning, more often?
If you're in a leadership role, you're probably in the thick of budget planning for next year. This is on top of your usual responsibilities of managing a team, attending (too many) meetings, strategizing next year's goals and striving to reach your Q3 targets. You probably feel like you're being pulled in several directions and don't even know where to start. The workload keeps increasing and your quality time outside of work keeps decreasing. Something isn't working, but you don't know what it is, or how to fix it. Trust me, I've been there and it's one of the biggest reasons why I chose to be a leadership coach and business consultant.
"You can't see the forest through the trees"
If the old adage,"You can't see the forest through the trees" rings true for you, I have great news. You're not alone, and you can find the clarity, capacity and confidence you need to thrive in your current role. 
First, it's important to identify the source of your current problems at work, which are often distilled into four categories or what I call "Themes for Thriving": People, Passion, Skills and Organization.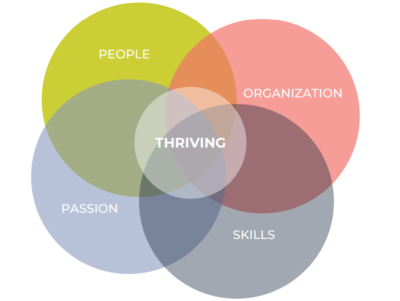 As described in my workbook, when one or more of these areas becomes a challenge that we have difficulty solving, burn out is inevitable. This can lead to withdrawal, fatigue, relationship breakdown and more. 
The question is: which theme is missing for you? And, what can you do about it?
The first thing you can do is to ask for help, and a certified coach is a great place to start – afterall, the top athletes, entertainers and visionaries accredit their success to their coaches and mentors. 
 
Having an objective view of your situation is a critical step in unlocking your potential.
A good leadership coach can help you:
assess your needs and identify your success barriers

build an actionable plan to put the right people, priorities and processes in place

help perfect your communication and leadership skills to inspire, engage and empower the people around you

advise, guide and hold you accountable along the way
The reality is, there is no "one size fits all" solution. A one-time workshop will not go deep enough to find the source of your challenges and it certainly will not hold you accountable throughoout your leadership development journey. A coach can help you reach your goals faster, so you can once again see – and enjoy – that forest through the trees.

To see if my coaching packages for leaders are right for you, click here

.